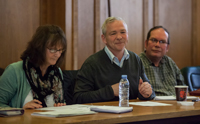 Employment and Education
We are a group of individuals, committed to working towards improving education, training and employment outcomes for people with autism. Our current members include people from specialist employment services, social groups, community interest groups, DWP (jobcentre) and local charities specifically supporting and working with people with autism, and parents and carers of children, young people and autistic adults.
We are open to others joining our subgroup, who share an interest in autism and employment, education and vocational training. We are especially looking for new members with a background in education as well as employers who can participate in our bi-monthly meetings, through contributing and sharing their knowledge and expertise and helping to make a real difference to people with autism in Lancashire. We are also always looking for more people with autism or Aspergers to join our subgroup as we particularly value first hand experience of employment and education/training.
Why is the autism strategy important to us?
Evidence shows that being in work and staying in work is beneficial for people's health and wellbeing. People with autism, like anyone else, want to work and have a variety of skills and talents that would be valued in a range of different workplaces.
Some people with autism will require support to get or keep a job. Yet adults with autism are currently significantly under-represented in the labour market, which has a detrimental impact on their financial circumstances and social inclusion, as well as being a waste of skills and abilities. The Autism 2010 strategy and Think Autism included commitments aimed at increasing the number of adults with autism in work through the provision of guidance and training to employers and employment support services and ensuring adults with autism benefit from employment initiatives. (Statutory guidance for Local Authorities and NHS organisations to support implementation of the Adult Autism Strategy, March 2015)
Our aims are to:
Make a real difference to someone with autism, whether this through;
• looking at how we can engage and work with employers to highlight the skills, strengths and advantages in recruiting individuals with autism
• providing signposting to others on information and services available to guide people through training and into work.
• Highlighting good news stories and examples of good practice to inspire others in similar situations
• Sharing concerns and issues that affect individuals with autism as they move through education, training and into work and looking at ways of resolving these.
• Helping people to feel better connected and know what's happening in Lancashire around autism, education, training and employment.
What's happening in our subgroup at the moment around education, training and work?
• We are contacting a sample of employers in Preston to find out more about their experiences of employing people with autism
Get in touch
Please get in touch and share your story around work, education or training.
For our current action plan detailing the specific sections of the DoH and Autism Strategy we are working towards, please click here.
For useful links around:
Employment:
www.gov.uk
www.lcc.gov.uk
Benefits:
www.entitledto.co.uk
Welfare rights:
www.welfarerights.net
For more information on organisations our members belong to:
www.ideaslancashire.com
www.autisminitiatives.co.uk
www.enactus.co.uk
www.actionforasd.co.uk