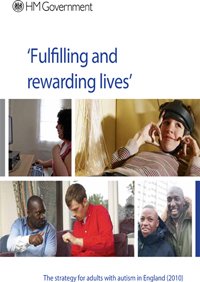 Are you a parent carer for a young person aged 14 and over or do you care for an adult family member with Autism?
We would like to hear from you!
Who are we?
We are a small group of carers who look after members of our family who are on the Autistic Spectrum. In 2009 an Act of Parliament was passed that recognised that people with Autism need support specifically shaped to their needs to help them have a "Fulfilling and Rewarding" life. All over the country Autism Partnership Boards were set up to work towards shaping services and communities to make this happen. The Boards include people who work for the Local Authority, people from Health and representatives from organisations that support people on the Autistic spectrum. Very important voices on the Boards are people with Autism and family carers.
How are we organised?
As a group we have a Terms of Reference that states what our aims are and how we will achieve them. We know how hard it is to get together as carers so we hold between 3 and 6 meetings a year to carry out pieces of work and in between we work together via email. We have our yearly priorities which help us to stay focussed.
What do we do?
In Lancashire, the Autism Partnership Board meets every 2 months. In between there are meetings of the subgroups which work to make changes that will help people with Autism and their families. We make sure that we have at least one family carer in each working group so that the people who make decisions hear first hand what life is like for people on the Autistic Spectrum. The current groups are:
Communication
Criminal Justice
Diagnosis, Assessment and Support Planning (DASP)
Employment
Transitions
What have we achieved?
Over the past few years we have:
Helped to establish a Diagnostic Pathway so that adults can get a diagnosis, no matter which part of Lancashire they live in.
Worked with the Autism/LD Social Care Team lead to develop flow-charts which explain in a visual way what happens after someone is referred to Social Care, and we have contributed to the on-line assessment tool, so that the people doing the assessment can support people with Autism to have a better experience and ensure that they get the help they need.
Worked with the DWP to identify the barriers to people with Autism getting and keeping a job. We have influenced a survey for employers to seek their views on employing someone on the Spectrum. We are looking at a visual pathway to show the different routes into work because this is something that family carers struggle with when they are supporting the person they care for.
Influenced the formation of a new Transitions group which will look at the links between what happens to young people in college and what needs to happen so that they can move into a good quality life as an adult with Autism.
Challenged health services about the lack of mental health provision for people with Autism and we have representatives who sit on the Confirm and Challenge group of Transforming Care to raise the profile of Autism with decision makers.
Responded to consultations about Accessible Transport and to the 2017 Ofsted/CQC SEND inspection in Lancashire.
How can you get involved?
We want to make sure that the people and organisations who make decisions about people with Autism hear what it is really like; we want them to shape services that take Autism into account and that can make a real difference to the lives of people with Autism and their families. And we want to get better at doing this. At the moment we talk to family carers that we know to get their views but if we have a bigger network of family carers who can tell us what is working and what their struggles are we can have a much stronger voice when we go into meetings.
What does joining the network mean?
When we have a piece of work to do we will send you an email asking for your views. We might run a survey or use a questionnaire.
We will invite you to share your views and experiences when we respond to consultations about things that affect people with Autism.
We will send a newsletter up to 3 times a year to tell you what has happened in the different groups.
There may be future opportunities to become more involved in the subgroups.
You can contact us about things you want us to raise about Autism. We can't solve individual problems but we can make what you tell us anonymous and use it as evidence to influence decision makers.
What can we not do?
Please note that we cannot act or intervene on behalf of individuals and, as volunteers, we do not have access to any funding.
How do I join?
We are hoping that support group leads will share our newsletters and surveys etc and you can send your responses and experiences to our email address: lancashireautismcarers@hotmail.com
If you would like to get information straight to your inbox you can request that we add your name and email address to our email account contact list. We will not share this with anyone and your email address will be added to our messages by Bcc which means that no-one else will see it.
If you prefer social media we have a Facebook page which you can find here: https://www.facebook.com/LancsAutismFamilies/
We look forward to hearing from you
The Family Carers Group